Sometimes, store-bought Halloween costumes are a good idea for everyone involved — kids are excited to have something new to wear and parents are relieved to go one holiday without breaking out the sewing machine. But there are some cases when homemade Halloween costumes are the best option, like when you or your child have a very specific costume in mind that can't be found at the store, online, anywhere. Luckily, going homemade doesn't always mean that you'll spend the night before Halloween sewing, pinning or painting. In fact, many of these homemade costume ideas only take a few minutes to put together, making them great options if you waited until the last second to come up with your 2021 look.
You'll find a mix of funny, scary and downright cute costumes on this list for the whole family: babies, kids, teens and adults. Some don't require as many moving parts (a classic DIY cat costume, for example), while others require intricate designs to resemble TV characters and pop culture icons. Even if you don't consider yourself particularly crafty, you'll find an easy DIY costume idea or two that you can pull off with plenty of time to spare. After all, you have to get a move on if you plan on making the most of your Halloween!
1. 'Men In Black' Halloween Costume
Grab the Kay to your Jay (or vice versa) to recreate this iconic look from one of Will Smith's best movies. All you need is a black suit, tie and sleek shades to pull it off.
RELATED: Trick Or Teach Teacher Shirt

2. Strawberry Halloween Costume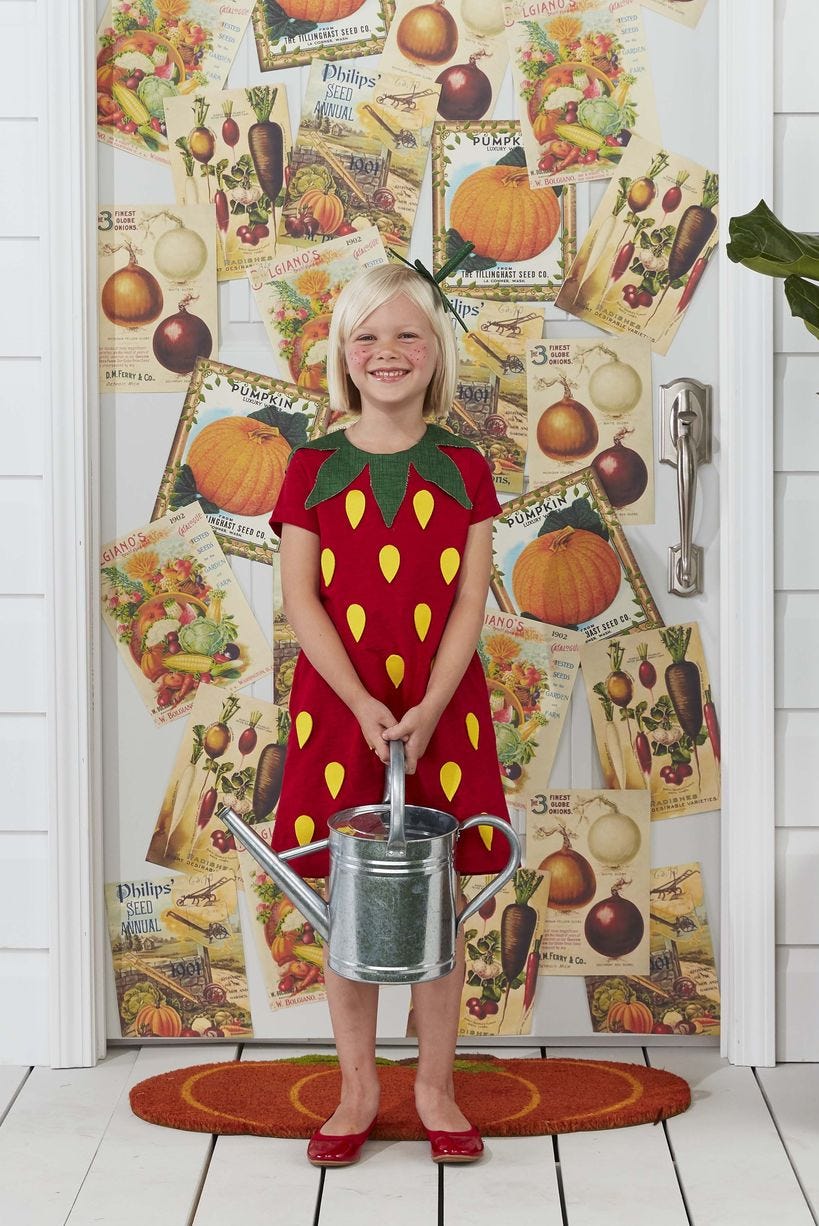 She's as sweet as a strawberry, and now she can dress that part. To make this adorable costume, cut seeds from yellow felt and leaves from green felt. Adhere the yellow and green felt pieces to a plain red dress with glue or double-sided tape. She can throw on a green beanie, bow or headband to resemble the stem — it's her call!
RELATED: Momster Monster Skull Shirt

3. Cat Halloween Costume
Come Halloween, there's nothing more classic than a cat costume. Go all-out with a black top, pants, gloves and tutu. To make it feline-friendly, paint whiskers on your face and throw on some cat ears.
RELATED: Cat Halloween Skeleton Shirt
4. Super Quilter Halloween Costume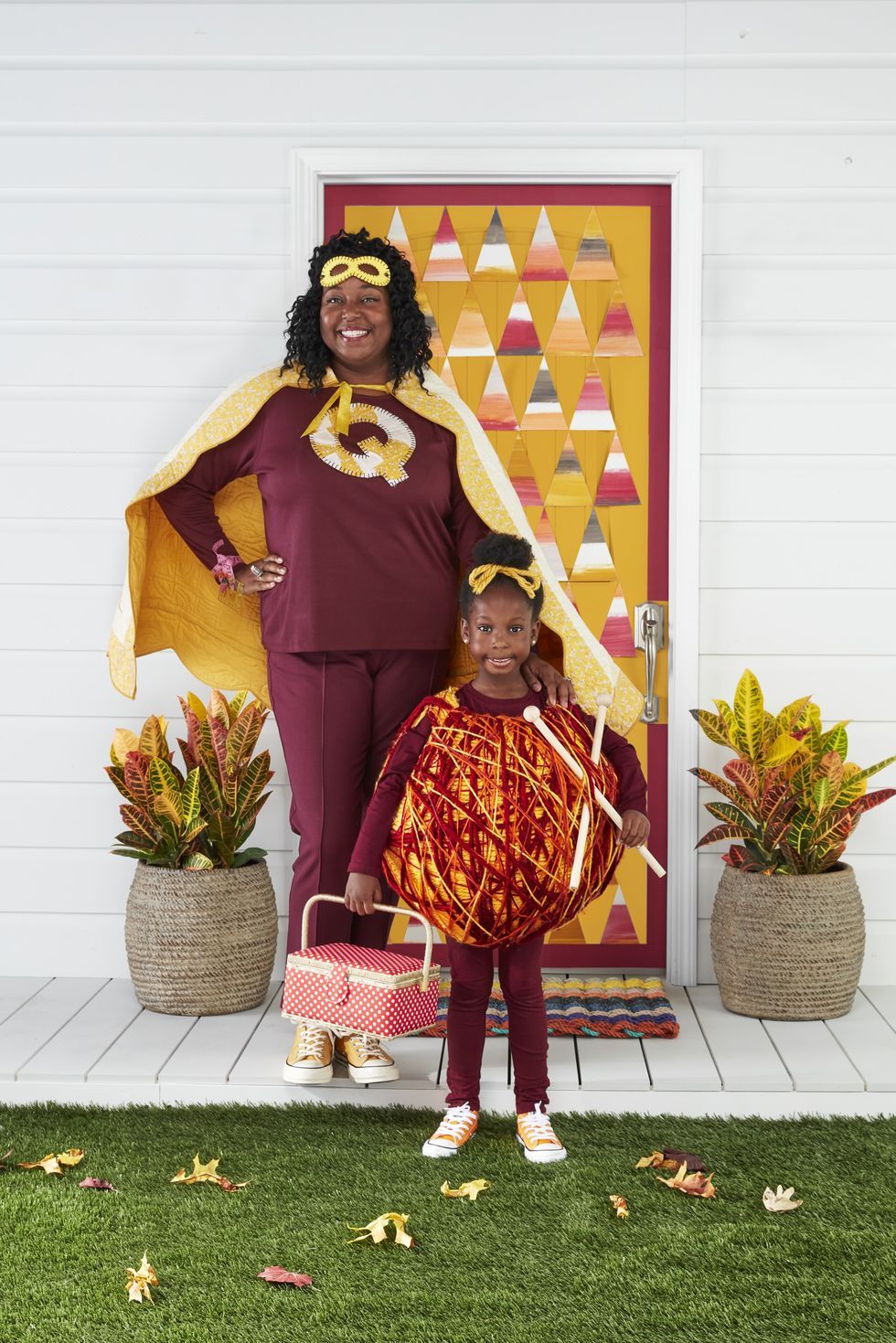 Super Quilter to the rescue! Put down your kitting needles for just one day, so you can craft this all-too-appropriate superhero costume. To make, cut a quilt into a trapezoid shape, finish the edges and sew ribbon to create a tie. Use a scrap piece of the quilt to cut out an oversize letter "Q" and stitch it to the front of a T-shirt. Find a superhero mask in a complementary color, and then you're off!
RELATED : Trick Or Kiss Shirt
5. Blessing in Disguise Halloween Costume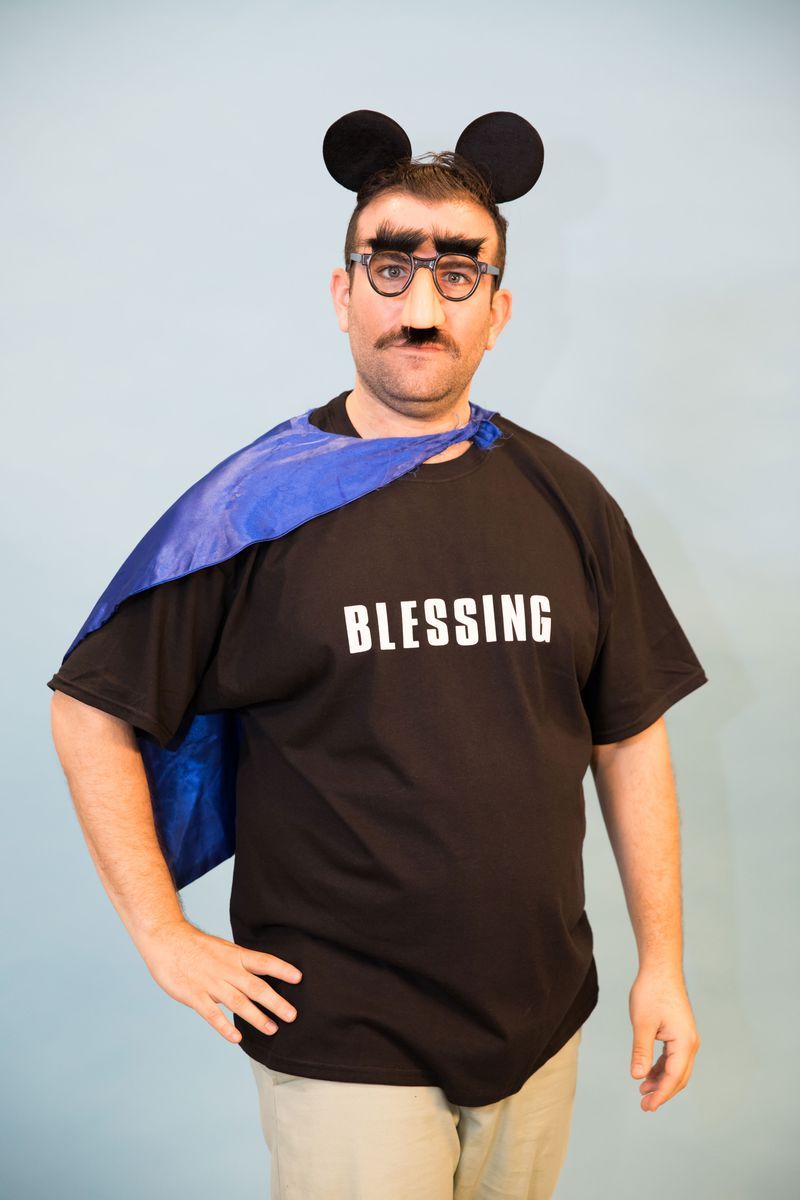 Ironically, people won't be able to hide their love for this clever costume. Mission accomplished.
RELATED : Sorry This Witch Is Taken Shirt
6. 'Stranger Things' Halloween Costume
For a punny take on a pop culture phenomenon, couple up as a Thing 1 and Thing 2, and then dress your little one as Eleven. They won't mind … as long as you give them an Eggo waffle to munch on.
RELATED : Hocus Pocus Sanderson Sisters Witch Shirt
7. 'If You Give a Mouse a Cookie' Halloween Costume
With this quick and easy DIY, you can immerse your little bookworm into their favorite read, If You Give a Mouse a Cookie. To really get them into character, make a batch of fresh cookies before trick-or-treating begins.
RELATED : Pumpkin Queen Autumn Shirt
8. Jack and Rebecca From 'This Is Us' Halloween Costume
You two have a love as pure as Jack and Rebecca, so why not show it off on Halloween? Head to your closet (or the nearest vintage store) to get 70s-inspired looks and then task him with carrying around three baby dolls that resemble Kevin, Kate, and Randall.
RELATED : Dabbing Skeleton Zombie Witch Shirt
9. 'Pinocchio' Halloween Costume
Rosy cheeks and a big ol' bow tie will transform your little sidekick into Disney's favorite cricket. Since cricket puppet needs a pal, you should dress up as Geppetto.
RELATED : Tinker Bell I Don't Spook I Sparkle Shirt
10. Clown Halloween Costume
Put an adorable twist on a scary clown costume. It's simple: The brighter the colors, the more fun it'll be.
RELATED : Respect The Drip Karen Shirt
11. Raggedy Ann Halloween Costume
Because Halloween is really about revisiting your past through your kid's costumes … right? This toddler-approved look does the trick.
RELATED : Happy Halloween Jack O'Lantern Pumpkin Shirt
12. Minion Halloween Costume
We bet your little Minion will want to wear this adorable yellow hat all winter long — and just when you thought the Despicable Me days were behind you…
RELATED : You Can't Scare Me I'm The Crazy Cat Lady Shirt
13. 'The Wizard of Oz' Halloween Costume
Give your neighborhood a thrill (the good kind) by dressing up as The Wizard of Oz characters, including Glinda, Wicked Witch of the West, Scarecrow, Tin Man, Munchkins, and even the tornado.
RELATED : Peanuts Vampire Snoopy Shirt
14. Skeleton Halloween Costume
Give this classic costume a makeover by cutting out sections of a t-shirt to create a ribcage illusion. Some B&W makeup and a paper heart make this skeleton more endearing than scary.
RELATED : Elephant Boo Boo Crew Shirt
15. Star Wars Halloween Costume
The great thing about Star Wars is that there are enough characters to have everyone in your family dress as their favorite, spanning different decades and eras, and you probably won't have to repeat characters.
RELATED : Horror Movie Villains No Lives Matter Shirt

16. Baby Yoda Costume
After The Mandalorian, everybody's going to want to be the galaxy's egg-stealing, Force-wielding Grogu. This costume is good for kids or toddlers, since it's just a cloak and hat. Though if you have a true infant, this Baby Yoda bodysuit might be even better.
RELATED : Bunch Of Hocus Pocus Black Cat Shirt, Funny Star Wars Yoda Lightsaber Best Dad Father's Day Shirt
17. The Mandalorian Costume
And every Grogu needs a Din Djarin to protect it. Are you ready to wear the Beskar armor? This also comes in kid sizes.
RELATED : Legendary Dad Star Wars The Mandalorian Shirt
18. Storm Trooper Costume
This Halloween, join the star-studded lineup of people that have suited up as anonymous-looking Storm Troopers (including Daniel Craig, and Princes Harry and William).
RELATED : Stormtrooper Floral Star Wars Shirt
19. Ahsoka Tano Costume
She's known as a Clone Wars character, but Ahsoka got a big moment in The Mandalorian — she was the one who figured out that "Baby Yoda" was actually named Grogu. Dress a sibling or best friend as her Clone Wars teacher, Anakin, and send them off for adventure. Don't forget your light saber, young Jedis! (Ahsoka carries two.)
RELATED : Star Wars The Bad Batch Shirt
20. Darth Vader Costume
Luke, your father has arrived in this Darth Vader costume, complete with the mask and red lightsaber. There's also a women's version that looks more like a dress (less scary, but still classic).
RELATED : Original Star Wars Best Dad In The Galaxy Darth Vader Shirt
21. The Anakin and Padme Meme
This meme format has been blasted around the internet faster than Han Solo could do the Kessel Run — and it's pretty easy to re-create for a perfect couple's costume. The Anakin costume is widely available. Amidala's look is trickier: Exact re-creations of her dress are out there, but pricey, so you might be better off DIYing with the starting point of a yellow dress with flowers. Then, there's the headband, which you can buy, or make yourself with a headband and bun covers. Bonus points if you carry around whiteboards so others can meme-ify you.
22. Rey Costume
Feel the tug of the Force pulling you toward this Rey costume, and you won't have to spend your Halloween stuck on Jakku. Make it a "Mommy and Me" moment by dressing your child as little Rey.
23. Han Solo Costume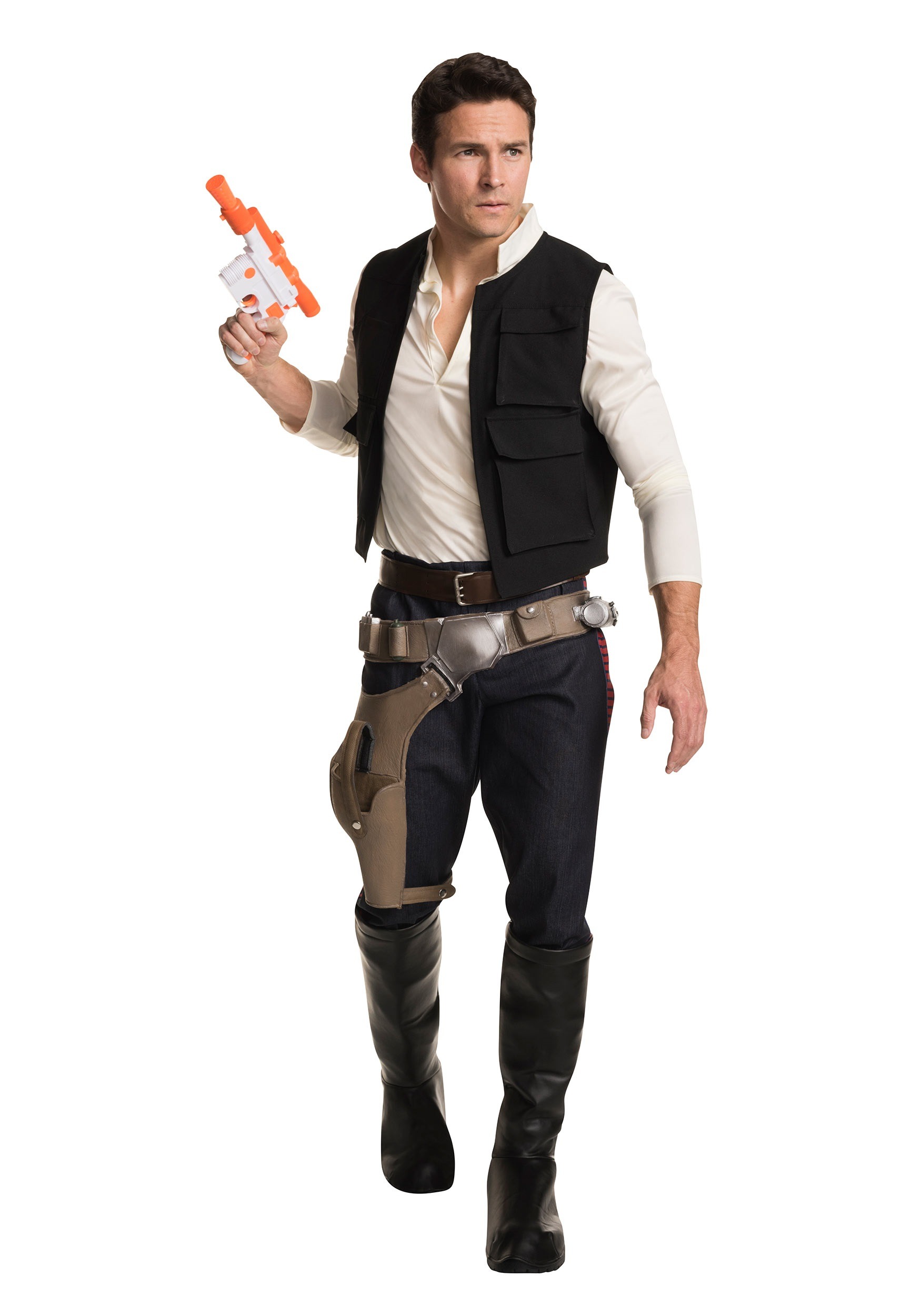 There's only one rule when you dress up as Han Solo: When someone says they love this costume, the wearer has to say, "I know." For a twist, try the Han Solo look from Solo — it's also very rugged.
24. Freddy Krueger Costumes
One two, Freddy's coming for you. Freddy Krueger is an iconic horror movie character and one of the most terrifying horror villains of all time! Unlike other characters like Michael Myers or Jason Voorhees, it's not his towering stature that makes him scary. He's quite diminutive compared to them. Instead, what makes Freddy so scary is that you can't get away from him. Freddy haunts dreams, so if you think you've outrun him, he'll just turn up again. You'll be the man (or woman) of everyone's dreams if you dress in a Freddy Krueger costume this Halloween.
RELATED : Horror Movie Villains No Lives Matter Shirt, Friends Horror Movies Character Shirt, Friends Horror Movies Character Shirt

25. It Costumes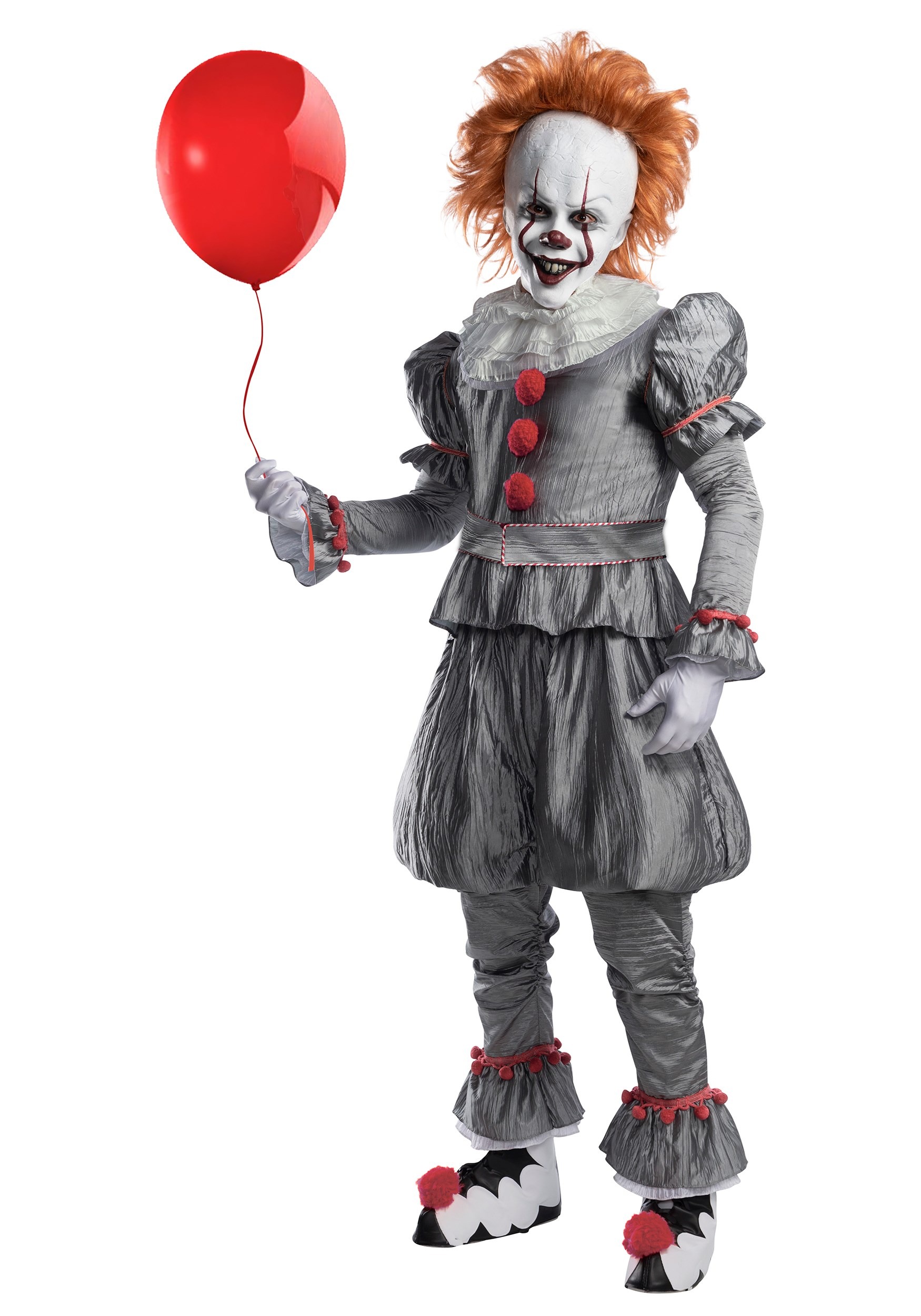 It's stated in the mythology of Stephen King's IT that Pennywise returns to feast on children every 27 years, so it was fitting for him to return to the big screen in 2017 since the IT mini-series premiered in 1990. You may see some clowns and scary clown costumes out every Halloween, but Pennywise is one of the most popular Halloween costumes when it comes to horror movie costumes. (You know you've made it into the ranks of the best of the best when you have your own scary dog costume.) Whether you like the classic Tim Curry look or the silver screen version, these Pennywise costumes will turn you into one terrifying clown. He's one of the most prolific horror movie characters around!
RELATED : We All Meow Down Here Clown Cat Kitten Shirt, Halloween Character Just A Girl Who Loves Horror Movies Shirt, Friends Horror Movies Character Shirt
26. Michael Myers Costumes
Say what you want, but Michael Myers is the official king of Halloween. Not only was he the inspiration for many other slasher franchises, but his movies are also named after the holiday! Michael Myers is most known for his iconic mask and his ability to stalk his victim with ease. He inspires fear in his victims by approaching them in a slow and stoic manner (seriously, why can't people just outrun him?) and is tough to bring down. Be the scariest person on Halloween with these Michael Myers costumes for adults and kids!
RELATED : Michael Myers Just A Tip I Promise Shirt, Pumpkin Carving With Michael Shirt, Just Do It Michael Myers Shirt, Michael Myers Shirt
27. Chucky Costumes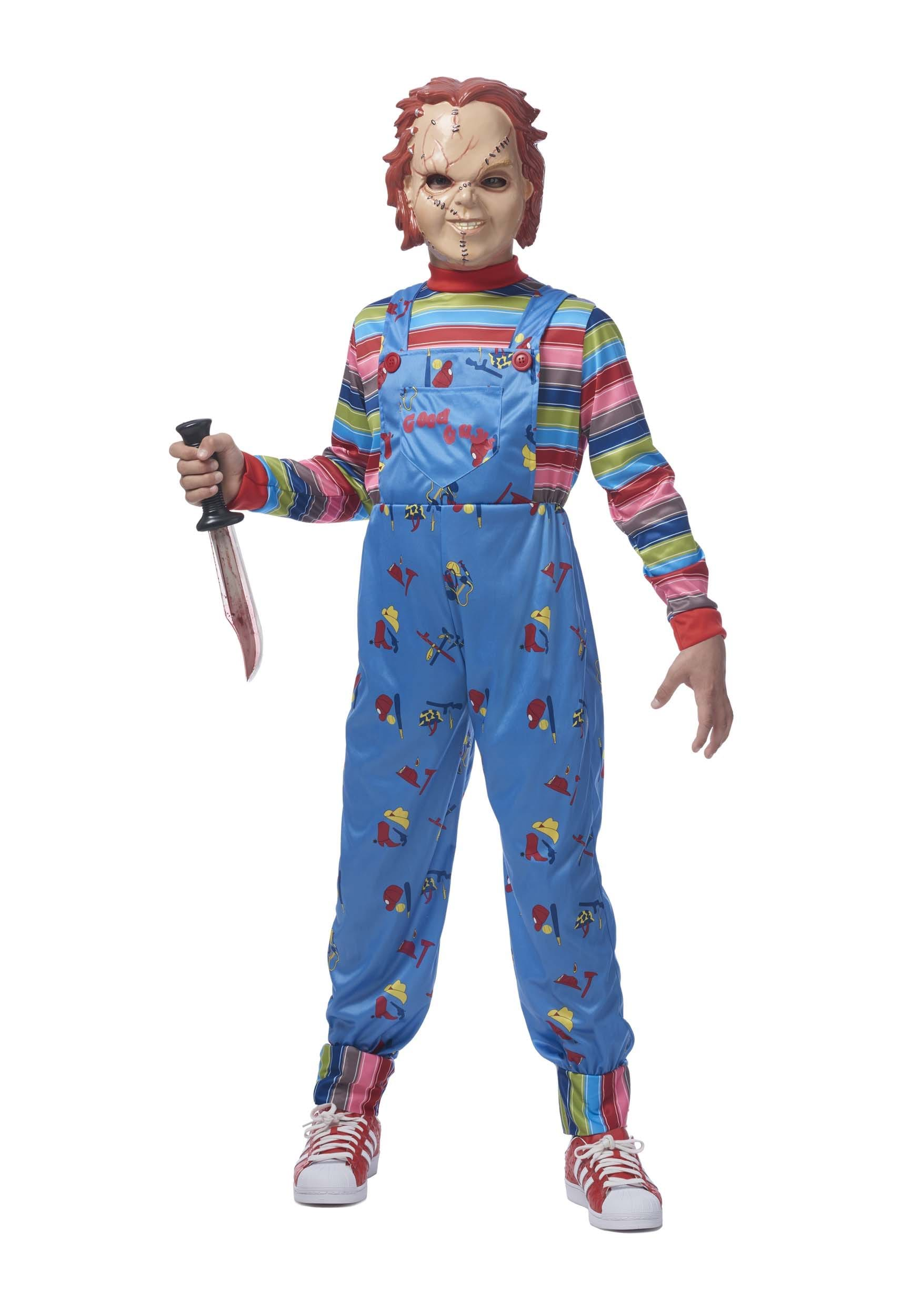 What's another way to strike fear into people? Dressing up as a murderous toy doll ought to do the trick. Chucky was introduced in Child's Play several decades ago and has since been a popular horror movie character. If you're going to be Chucky for Halloween, all you'll have to do is pick out one of these creepy costumes. No need to use voodoo to transfer your soul into a doll's body!
28. Frankenstein Costumes
It's hard to get more iconic than Frankenstein costumes. (Frankenstein is certainly up there on our list of favorite classic horror movies!) While most have forgotten that Frankenstein was the name of the doctor/scientist guy and not the monster, the name stuck so we'll just go along with it. If you're looking for a classic horror movie couples' costume, it's hard to be more iconic that Frankenstein and his bride!
RELATED : Dabbing Skeleton Zombie Witch Shirt
29. Jason Voorhees Costumes
Another horror powerhouse, Jason Voorhees! Did you know that the Friday the 13th franchise was created to capitalize on the success of the Halloween franchise? While he wasn't featured as an adult in the first film—spoiler alert: the killer was actually his mother!—he became an unstoppable force once he rose from the depths of Camp Crystal Lake. (Somehow as an adult as opposed to a child that had drowned in the lake…but we'll go with it.) As an added bonus, Halloween is right around the time hockey season starts, so you'll be ready to head to a game in your horror hockey mask. Just be sure to leave the fake machete at home.
RELATED : Jason Voorhees I Wish It Was Friday Shirt, It's Friday Horror Movies Shirt, Eat Pizza And Watch Horror Movie Shirt
30. Ghost Face Costumes
Do you want to play a game? What is the best 90s horror movie costume? You'd better have answered Scream's Ghostface (even if Candyman is a close second). You're sure to spook the neighborhood with a Ghostface mask and scary black robe. This knife-wielding maniac was also the inspiration for the series of Scary Movie movies that we know and love!
RELATED : The Devil Whispered Bring Tacos Shirt

31. Hannibal Lecter Costume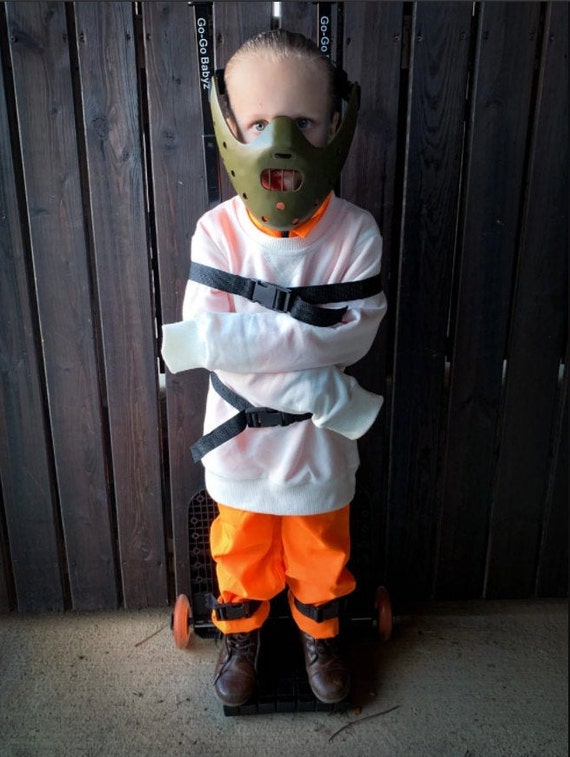 Cunning and manipulative, Hannibal Lecter is a character that very few could stand neck and neck with. This cannibalistic psychiatrist doesn't have powers that constantly brings him back to life or superhuman strength but what he does have is his wits. His understanding of the human mind is vast and while you may think you're outsmarting him, you're likely falling right into his trap as he's always two steps ahead. To get his look, you'll need a prisoner jumpsuit, a straight jacket, a Hannibal mask, a wig to mimic his hair and black dress shoes.
So have you chosen one of these ideas for your Halloween yet ? Go check out our website Toasttees.com and shopping now. We have many design print on T-Shirt, Hoodie, Coffee Mug, Poster and so on.
Check our Latest products!